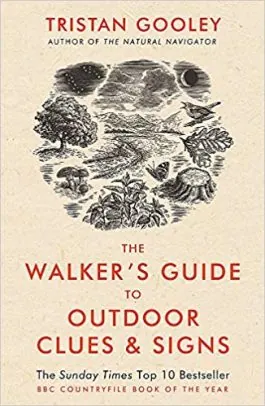 The ultimate guide to what the land, sun, moon, stars, trees, plants, animals, sky and clouds can reveal – when you know what to look for.
Includes over 850 outdoor clues and signs.
This book is the result of two decades of pioneering outdoors experience and six years of instructing, researching and writing. It includes lots of outdoor clues and signs that will not be found in any other book in the world.
As well as the most comprehensive guide to natural navigation for walkers ever written, it also contains clues for weather forecasting, tracking, city walks, coast walks, night walks and dozens of other areas.
"I give away lots of very good things on my website and through Twitter, Facebook, Instagram and my newsletter. The really great stuff… I save for my courses and books."

Tristan Gooley
—————————–
Latest News:
Currently into its 31st reprint in the UK alone!
Now available as an audiobook!
The Walker's Guide wins The Great Outdoors Awards 2015 Book of the Year
The Walker's Guide wins BBC Countryfile Magazine's "Country Book of the Year" Award.
"It's official, according to the Sunday Times, The Walker's Guide is a bestseller. A massive thanks to all who have bought it, I hope you enjoy!" (From Tristan's Twitter page).
——————————
🇺🇸 Reading this in the USA or Canada? 🇨🇦
This book is published in the US and Canada under a different title:
The Lost Art of Reading Nature's Signs
It is the same book, but with plants and animals changed to be more relevant in the US.
——————————
Reviews:
"In terms of sheer did-you-knows per page it is one of the richest, densest, most rewarding books on nature I have read in a long time.
If a trek with Gooley himself might be daunting, his book vastly repays any time spent with it. Above all, its joy in deduction is infectiously delightful."

James McConnachie, The Sunday Times
"I for one will never look at the British countryside in quite the same way again."

Stephen Moss, Countryfile Magazine
"It's like being given some sort of magical text… eye-opening and invaluable."

India Knight, The Sunday Times
"Learning so much in The Walker's Guide, the new book from Tristan Gooley, that I might have to take another long walk."

Nicholas Crane
"Gooley can show the most moonstruck how to interpret their surroundings. Even the intrepid Bear Grylls could learn a trick or two from this book."

The Times
"Tristan Gooley's latest best-selling book is a delight to read and is full of information about the natural features we so often miss while walking in town and country… Anyone interested in walking out of doors at any time would be well advised to read this excellent book."

The Royal Institute of Navigation
——————————
The answer to the following questions and hundreds more will be found in the book.
How can a smell make a train appear?
What does the colour of mud mean?
How can I use tree leaves as a compass?
Why should we tread carefully when we see hotdogs?
What clues are there in the colours of a rainbow?
How can I tell the time using the stars?
Why are some shadows blue?
How can I tell whether the moon will co-operate with a night walk?
Which butterflies will tell me how far it is to the pub?
Why are there cafés on only one side of the street?
How do seaweeds map the beach?
What does it mean if snowflakes get bigger?
How can a love of plants make me rich beyond my dreams?
—————–
The Walker's Guide to Outdoor Clues and Signs is published by Sceptre.
Click here for more about this book, including Contents.
Ordering
🇬🇧 For details about how to buy the book in the UK, please see this page.
🇺🇸 🇨🇦 For details about the North American edition of this book, called The Lost Art of Reading Nature's Signs, please see this page.
In all other countries it should be available via your local bookshop or online.
Tags