I undertook a small natural navigation challenge in West Sussex yesterday.
The sun was out so it was not especially tricky, but that is never the point really. When direction is easy it gives me extra time to focus on spotting new things (and if I feel like more pace-counting, perfecting distances).
The spring wildflowers were out in great numbers. I was joined at times by bluebells, red and white dead-nettles, daffodils, primroses, wood anemones, ground ivy, common comfrey, green alkanet, marsh marigolds (see picture at top), cuckoo flowers, wood spurge and also some garden escapees: honesty and periwinkle; all in bloom. Each one was simultaneously beautiful and dutiful in offering me clues to direction and terrain.
If you look closely at the image below, you might spot a sprinkling of yellow marsh marigold flowers along the left riverbank. As their name suggests they will be found in ground that is regularly waterlogged and like many plants that prefer damp environments – cuckoo flowers are another – they prefer northern aspects to full sun southern ones. There were no marsh marigolds or cuckoo flowers on the opposite bank.
————-
Other wildflowers seen:
Common Comfrey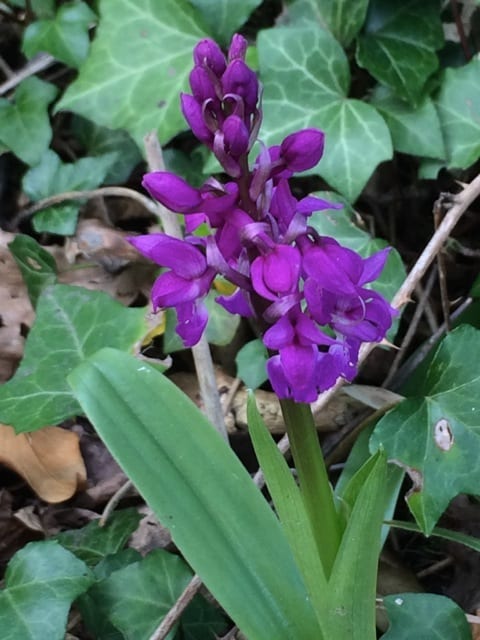 Early Purple Orchid
Greater Stitchwort
Ground Ivy
Honesty
Periwinkle
Cuckoo flowers
Tags