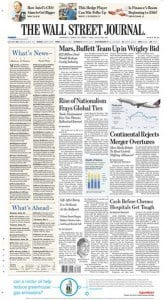 The Wall Street Journal has recently reviewed The Natural Navigator book.
Here is a taster:
"…as the title of his deeply poetic book—"The Natural Navigator"—suggests, there is life after the compass, maps and even GPS. Or, to put it more accurately, there was life before them, and that way of life—in which we orient ourselves by examining the types of clouds in the sky above us or the strength of sea currents beneath our feet or the marks that winds leave in the snow—is worth studying and defending…."
The full review can be read here.
Tags