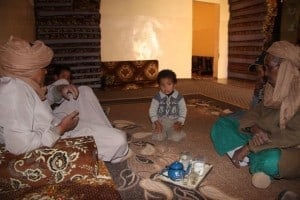 The news that rebel forces are pushing south in Libya, has taken me back to the short time I spent in Sebha in February and March 2009.
Sebha has a domestic airport and I was using it as my  gateway; it allowed me to jump from the coastal capital of Tripoli into deeper, Saharan Libya. The foreign correspondents are now feeding back items about the importance of the tribes in the area. This is something that resonates for me, because although I only had the opportunity for a few hours in the area before heading away from the town and into the desert itself, the impression it left me with was strong and one I can only describe as 'indigenous intimacy'.
The airport itself is tiny, but was full of almost exclusively men, all in traditional dress, who appeared to be kissing one another incessantly. There was not one hint of western influence outside of the dated X-ray machines. There were a small number of officials who appeared to wield extraordinary influence and everyone was taking turns to implore them for some small mercy. From the passion on display it was hard to tell if the locals were begging for an extra kilo's worth of baggage allowance or the chance to see their family. I had already learned by this stage, that it was better not to ask questions about officialdom in Libya. I wonder if that will still be true in a few years' time.
Sebha is a short flight and a long way from Tripoli. Tripoli felt like the Mediterranean city that it is. Not even four decades of Gaddafi could dilute that feel. But Sebha and the Fezzan are a different world. All the people I met in Tripoli showed an awareness and interest in the countries that bordered the Mediterranean and beyond. Those I met in southwest Libya did not.
Tags