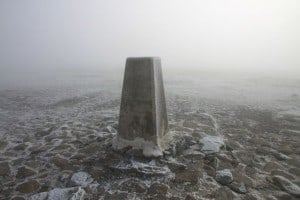 I have just returned from a wonderful couple of days in the Lake District. I was at the 'Words by the Water' literary festival in Keswick in the Lake District. My thanks to Kay and Steve for hosting such a great event. When I was invited to give a talk it did not take long to make up my mind: a literary festival, in a theatre by a lake, surrounded by beautiful mountains? Where do I sign?
It would have been churlish not to sample some of the local bumps whilst up there and I enjoyed a fantastic walk up to High Street (named after the Roman Road that went over the peak). The conditions changed almost instantly, as they are wont to do at this time of year, from mild and sunny to bitter cold, freezing fog and ferocious winds near the summit. The map came out to check the safe descents as visibility plummeted to about 25 metres at times but the compass stayed in the rucksack: the wind was blowing hard and very constantly from the southwest so I only needed to make sure that my right cheek stayed frozen to hold my southeasterly course down. There were also some helpful pockets of lee snow tucked into the hillsides.
In the photo above you can see how the ice has not formed symmetrically around this triangulation pillar: as we look just east of south there is no ice on the neareast northern side. This may seem counerintuitive as you might expect to find more ice on the shaded northern side, but the reason for the lack of snow on the northern side here is that this ice has been caused by moisture in the air that is near or just below freezing hitting the triangulation pillar which is below zero degrees and then freezing on impact. This is the same 'rime ice' effect that aircraft experience on their wings in these conditions. The sides facing into the wind will ice up and the lee sides, the northern and eastern sides in this case, will remain free of ice.
Tags