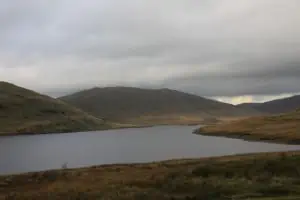 The third Condry Festival, 'Nature and Outdoor Writing at its Finest', took place on Saturday at the Tabernacl in Machynlleth, Wales. I was honoured to be invited to speak and it was a wonderful opportunity to spend some time in the company of those whose passion and dedication to understanding the natural world have set them apart. I listened to talks by Jack Grasse, Ian Wright, Jim Perrin, John Fanshawe and Andrew McNeillie. I learned a very great deal and enjoyed the process hugely.
Machynlleth is the right size for a small town and it holds some peculiar charms. There was an alternative taste evident in some of the shops and a vibrant liberal feel to the air. A source, who shall remain nameless, informed me that Machynlleth is the 'lesbian capital of Wales'. I was in no position to argue with such an assertion, ill-equipped as I am with data about the lesbian credentials of other Welsh metropolises.
The following morning, those of us who had been corralled and cared for in the Wynnstay Hotel gathered in a loose way for breakfast. A debrief of the Festival, that had commenced the night before over fine lamb and wine, resumed that morning over marmalade and black pudding. It was shortly after this that Jim Perrin spotted me unfurling an Ordnance Survey map.
"You're the Natural Navigator, you don't need a map!" Jim smiled. "Would you like to spend a night in the wildest place in Wales?"
"Yes." I replied, casually, but my eyes may have betrayed that I fully realised that I was being offered the keys to the inner sanctum. The location of a place that Jim Perrin can describe as one of the wildest places in Wales is precious knowledge. The holy of holies amongst those of us who search the world for exclusive brands of fresh air. Jim rattled off Welsh names and directions and I scribbled on a piece of paper. I climbed into the Land Rover, scribbles on thigh like a pilot, and headed south for ten miles.
If you would like to know the place that Jim revealed, then you must follow these instructions:
Head for the 'Pig Stream'. Once you get there, you must pass the gatekeeper who will request a password. Answer with this line:
"I come from the West, and from the Town of Lesbians." You will be allowed to pass.
Those last couple of lines are not wholly accurate and I cannot divulge the exact location of this spot, for obvious reasons. It is in the broad area of the Nant-y-Moch reservoir. (Welsh for 'Pig Stream' reservoir). If you do choose to search it out be quick, because it looks like the whole, wild, beautiful area is about to be turned into a wind farm. Or as one speaker at the Festival put it: a 'wind factory'. The grey towns will get their green energy, even as the green hills go white and whirl and thump.
I pitched and the clouds that had allowed glimpses of the moon and Jupiter after dusk, gathered strength and rained on and off through the night. The drumming on the tent was never long or heavy enough to keep me awake for more than a few seconds. The rain passed briefly again after six and woke me. I clambered out of the tent and 'struck early' – a sound rule for wild camping.
My route home took me past the Gilfach Nature Reserve and I could not resist a good explore. It is home to much, including a lichen discovered there and new to science in 1998. The fields were replete with yellow-meadow ant-hills.
Back on the road I made the route bend to take in Hay-on-Wye, where I strained the rear axle with some more heavy natural history tomes. Once the knees were also strained, with the weight of a roasted vegetable tart, it was time to drive on back to West Sussex, bringing to an end a long weekend of literature, nature and invigorating company.
My thanks to Jim Perrin, Sara Lee Branch and Andrew Green of the National Library of Wales for inviting me to such an excellent event, and to Martin Wainwright for chairing the afternoon with great style.
Tags