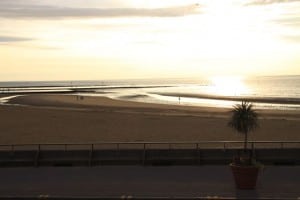 A belated thank you to everyone who came to my talk at the Marine Studios in Margate a week ago, and another thanks to those who also bought a book afterwards.
I arrived an hour early and walked down to the beautiful beach and went for a swim (yes that really is it in the photo). I then dried myself off in the beach car park, with the car radio on as I listened to Andy Murray losing, valiantly, to Rafael Nadal. A more British experience would be hard to imagine. I walked up to the Studios to give the talk, watching a kid go beserk after dropping an ice cream and feeling the sand between my toes.
Whilst very vaguely on the subject of swimming, the Independent invited me to be on their Best 50 swimming spots in the UK panel. The results can be found here.
Tags