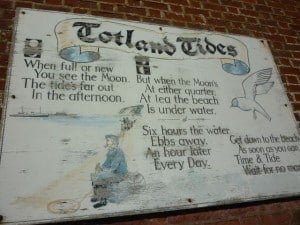 Back from a short family camping trip to the Isle of Wight, where I stumbled across this wonderful sign on the side of an old lifeboat station house.
In case it is not legible in the picture, the words read as follows:
When full or new
You see the Moon,
The tides far out in the afternoon.
But when the Moon's
At either quarter,
At tea the beach
Is underwater.
Six hours the water
ebbs away,
An hour later
Every day.
Get down to the beach
As soon as you can
Time and Tide
Wait for no man.
——
How divine is that?
Tags