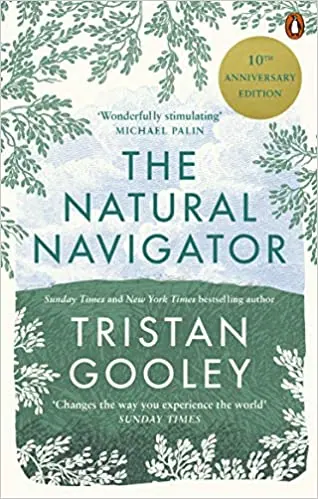 Starting with a simple question – 'Which way am I looking?' – Tristan Gooley blends natural science, myth, folklore and the history of travel to introduce you to the rare and ancient art of finding your way using nature's own sign-posts, from the feel of a rock to a glance at the moon.
With Tristan's help, you'll learn why some trees grow the way they do and how they can help you find your way in the countryside. You'll discover how it's possible to find north simply by looking at a puddle and how natural signs can be used to navigate on the open ocean and in the heart of the city. Wonderfully detailed and full of fascinating stories, this is a glorious exploration of a rediscovered art.
For details about the North American edition please see this page.
"The best nature writing changes the way you experience the world. Tristan Gooley's The Natural Navigator will teach you how to find your way using not just the moon, sun and stars but spider's webs, tennis courts and even ruts on a track. He throws in entertaining anecdotes from the history of navigation and from his own impressive Atlantic journeys, but really he's giving you an addictive hobby, and a newly refined sense of time and place."

James McConnachie, The Sunday Times
"Doubtless sat-nav will eventually breed a generation unable to read the simplest road maps, never mind plot their way across rough countryside from an Ordnance Survey map. This wonderful book takes the skill set back several generations further, to the vanishing (but often surprisingly simple) arts of navigating by sun, moon, stars and natural phenomena. If this sounds arcane and unlikely, it's not: armchair readers will revel in the beautifully written material on myth, science, folklore and history, and the fascinating details and tips; others will be inspired to get out and give the techniques a try – using puddles to find north, knowing why clouds don't always move in the same way as the wind is blowing, smelling "fresh air" blowing from the direction of a hidden coast…
This is the sort of charming and inspiring book you want to recommend and buy for others. A must for any lover of the outdoors."
Read the full review here

Tim Jepson, The Telegraph
"A wonderfully stimulating book. Tristan Gooley sidesteps technology to celebrate our own powers of observation, and suggests that the art of natural navigation is something we should never have forgotten."

Michael Palin CBE, President of the Royal Geographical Society
"This in-depth book gives us the tools to re-engage with our natural world in a clear and understandable way. I love it!"

Bear Grylls
"A definitive volume on the subject."


Paul Gelder, Editor Yachting Monthly
"This fascinating book is filled with surprising facts, including one that will eventually spell the end to one of the few things that most people know about natural navigating"
Read the full review here

Timothy R. Smith, The Washington Post
"This is a wide-ranging blend of history, myth, folklore and fact, and Gooley manages to disabuse a few notions along the route. If you're allowing moss to always guide your woodland hikes northwards, for example, you might be heading in the wrong direction.
Gooley is a fine writer with a philosophical passion for the subject, and he occasionally veers into areas that are perhaps not strictly within the remit of the book, but these are effortlessly pleasant diversions that add to the whole.
His timing is strong, with anecdotes dropped in at just the right intervals to keep you turning the pages. His advice is at times glorious in its simplicity and fascinating in its execution…"
Read the full review here

Laurence Mackin, The Irish Times
"In a sat-nav dominated world, where GPS and a host of other acronyms designed to get us from A to B have overtaken paper maps, it is refreshing to meet someone who understands technology, but prefers to find his way by practising the rare and ancient art of using nature's signposts, from puddle patterns to shadow lenghths… I'm hooked. Back at the beech, I make a mental note of emerging bluebell patches, forming an internal map that I'll use to find my way around the wood."

Paul Evans, BBC Wildlife Magazine
"The perfect book for getting you started on your own adventure."

Sir Ranulph Fiennes
"The Natural Navigator by Tristan Gooley is a celebration of man's relationship with the great outdoors. Gooley, a fellow of the Royal Navigation and Royal Geographic societies, could have turned out a dry bit of Boy's Own indulgence here. Instead, he's crafted an eminently readable book that can't fail to intrigue the most unscientific mind with its simply expressed practical guide to how to literally follow your nose – indeed, all your senses – to find your way around the world."
The Independent

Kate Simon
"As Gooley reminds us, navigation is, first of all, about understanding where you are. His marvellous book is a good starting point."

Mick Herron, Geographical Magazine
"Gooley's calm, contemplative authority on matters solar, lunar and celestial establishes his guru credentials – but it's his revelations about the clues that lie scattered about the natural environment that really entrance: how puddles drying on paths, the shapes of sand dunes, the graininess of scree on the lee of a slope can all be enlisted to summon compass points to your horizon."

Chris Born, Time Out
---
Ordering
🇬🇧 For details about how to buy the book in the UK, please see this page.
🇺🇸 🇨🇦 For details about how to buy the book in the USA or Canada, please see this page.
In all other countries the book should be available via your local bookshop or online.