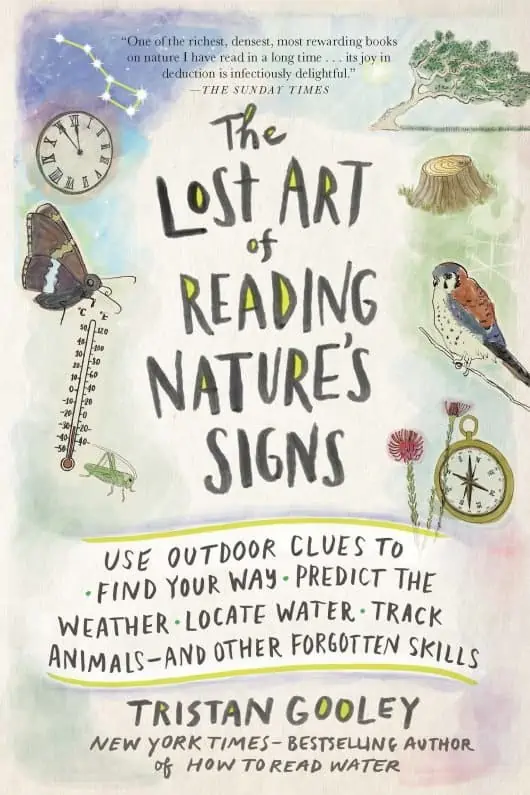 The Lost Art of Reading Nature's Signs is the North American edition of:
'The Walker's Guide to Outdoor Clues & Signs'
It has been updated with North American references, including plant and animal species where possible, but is otherwise the same book.
---
The ultimate guide to what the land, sun, moon, stars, trees, plants, animals, sky and clouds can reveal – when you know what to look for.
Includes over 850 outdoor clues and signs.
This book is the result of two decades of pioneering outdoors experience and six years of instructing, researching and writing. It includes lots of outdoor clues and signs that will not be found in any other book in the world.
As well as the most comprehensive guide to natural navigation for walkers ever written, it also contains clues for weather forecasting, tracking, city walks, coast walks, night walks and dozens of other areas.
"How rare to find a book that is truly brilliant. The Lost Art of Reading Nature's Signs, by Tristan Gooley, is brilliant in the English slang sense (as in being terrific); it is brilliant in its comprehensive conveyance of all the ways to interpret natural and man-made landscapes; and brilliance glitters from Gooley's sparkling wit."

Forward
"Gooley's comprehensive volume should pique the curiosity of budding nature-lovers and is ideal for anyone keen on forging a deeper connection with the land."

Publishers Weekly
"While Gooley's tips encompass useful, practical ways to predict a change in weather, determine when a predator may be prowling and find true North at night, his true gift is in igniting curiosity and wonder about the world around us."

Shelf Awareness
"In terms of sheer did-you-knows per page it is one of the richest, densest, most rewarding books on nature I have read in a long time . . . its joy in deduction is infectiously delightful."

James McConnachie, The Sunday Times
For more information and to order please see this page.